A Better Way to Real Estate Wealth
Doing well by doing good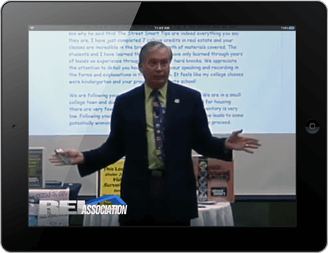 EARN MORE THAN A FLIP
Create dependable, predicable, monthly income while helping your community using a method to make about 30% more than a traditional flip.
My good friend Louis 'Lou' Brown has a solution to do it plus never use a bank or get stuck holding properties you can't sell.

Write down the "Four Ts" covered in the interview to start on path to be a real estate millionaire by 2020 using Lou's Millionaire Jump Start method: find and negotiate deals that you do in a way that allows you to reap profits monthly for as long as you choose.
A BETTER WAY TO REAL ESTATE WEALTH IN 2019
Imagine how many thousands of dollars can flood your bank account, like water busting through a dam, when you have more pre-qualified eager buyers lined up than you even have homes to sell. Get ready to turn houses for HUGE profits, faster than you can acquire them. The details are inside the interview Lou Brown.
THE 2019 MARKET HAS TIGHTENED UP
The market has tightened up because there are so many qualified buyers, right?
WRONG! That's just one of the many real-estate myths that are keeping most people from making huge profits in real-estate these days. The truth is there are MILLIONS of potential buyers. The problem is that using real-estate techniques from even a few years ago makes finding buyers that give you the highest profit is more difficult.
But people who use Lou Brown's, House Monster training don't have any problem finding buyers that yield about a 30% higher return than a typical flip deal. In the past 40 years that Lou Brown has been investing in Real Estate, he's discovered a way to find the solution before the problem – Find the buyer BEFORE you waste any time or a single dollar buying a house.
When I started out in real estate I drove 3 ½ hours in a snow storm to hear Lou teach. I would have walked it to get the training, systems and forms he's created to build his real estate empire. Lou's rags to riches story is amazing and he owes it all to real estate. Now he is sharing how others become financially free just like Lou did. And the cool part is you can do it from right where you're at: without credit, bank financing or money.

Scott FladHammer, Wealth Education™
DO SOMETHING TODAY THAT PAYS YOU FOREVER
These "fast flippers" think that in order to make a profit they have to buy cheap. That's true but that's only part of the story. Investing is doing something today that pays you forever.
You make your money going in, but you realize your profit when you sell. You must be able to sell the thing and sell it quickly to realize that profit. What if you could realize profit when you sell and ALSO get cash every month as well?
Most long-term investors these days are watching their returns erode at an alarming pace. Property taxes, insurance, maintenance, yard care, ect… it doesn't stop. But even more costly is the interest on the loan to buy and repair the property. This could all be avoided if you understand where the real money is.
You might make your money when you buy but you don't realize it until you sell. Every expense between these two events comes right off the bottom line. Your final check, after all costs and expenses, tells the story. A way I have found that makes this business so brain dead simple and profitable it will surprise you. It's what I call the Street Smart® way: buying right and buying cheap using the right method of financing allows you to offer the property with very favorable terms to your buyer. Instead of sending them TO the bank you BECOME the bank. Lou Brown, Street Smart Investor
IN THIS INSIDER INTERVIEW YOU'LL LEARN:
How to do well by doing good in your community
A Better Way to Real Estate Wealth & Success in 2019
Never get stuck again holding properties you can't sell
Never again struggle finding qualified buyers and never step foot in a bank
TITLE:
A Better Way to Real Estate Wealth
LENGTH:
30 Minutes
LEVEL:
Beginner to Advanced
INSTRUCTOR:
Louis 'Lou' Brown

LOG IN FOR BIG PROFITS IN REAL ESTATE:

---
MEET THE PRESENTER
Students in all fifty states have long regarded the training, systems and forms created by Louis Brown at the best in the industry, across Canada and ten foreign countries including as far away as Australia and New Zealand.
Quoted as an expert by many publications and authors, "Lou" draws from a wide and varied background as a real estate investor having been buying property since 1977. He's invested in Single-family homes, apartments, hotels, developed subdivisions and built and renovated homes and apartments. Each of these experiences has given him a proving ground for the most cutting edge concepts in the real estate investment industry today.
He's widely known as a creative financing genius with his deal structuring concepts. Being a teacher at heart he enjoys sharing his discoveries with others. He has served the industry in many volunteer positions such as past President and designated lifetime member of the Georgia real estate investor association, the worlds largest investor group with over 3,200 members. Husband, Father, Author, Lecturer, Inventor, Investor, Builder, Designer and real estate expert are all descriptions of this exciting trainer.
Get this course…
AT A DISCOUNT!

As a courtesy to Indiana REIA™ Lou Brown has extended the special offer price and bonuses she made at the LIVE Main Event™ (which sold out). But you can still learn the exact steps Lou has used for over 40 years in real estate investing:
ORDER, LEARN AND EARN:
Get Endless Government Grant Money
Create Wealth from Smart Passive Income
How to build substantial IRA for retirement
How to find deals and what to say to sellers
Understand how to create, buy, sell, modify & notes
No money down strategies for accumulating property
The exact paperwork Lou uses in his buying-selling machine
How to have fun while you earn Long-term Wealth, and much more!
GET WHAT YOU NEED NOW
Order the course before the special 2019 pricing discount ends. Invest in yourself by ordering now so you're armed with everything you need to make money and have fun in real estate.
YES! I want the course, Lou Brown's coaching, bonuses and the special 2019 REIA discount price. Please contact me as soon as possible!