Real Estate Land Trusts Made Easy
Why smart investors use them
House flipping has been prominent in the media for a decade, but little attention has been paid to the protection side of the equation: the protection of the investor and of the investment.
This is a shame because it ignores the fact that we need to stand up for our right to privacy now more than ever, and that includes maintaining the privacy; personally and professionally.
YOUR ODDS OF BEING SUED ARE GREATER THAN EVER
And never mind who is in the right. "I recently lent money to a rehabber who had his closing date canceled because a painting contractor filed a lien against him on a completely different property, remembered Scott FladHammer. "And even though the contractor's lien was a bogus attempt to get paid for rotten work, the lien attached to all of the investors properties … even with his properties titled in his LLC; in fact, that's part of the problem."
Never mind who's right, your deal can stall for months or your reputation can be sullied because of how simple it is to find people these days.
ARE YOU AN EASY TARGET?
With simple internet access anyone can find out where we live, where our properties are and how much we make on your deals. That's why it is so important to have a privacy protection solution. Whether you're flipping houses or own rental property, even just one… it only takes one attorney snooping around or one disgruntled tenant to invade your private home life.
THEY ARE OUT TO GET YOU
Want an extreme example? A Fort Wayne Landlord had a disgruntled tenant pull up on his front lawn with a gun because he was mad about being evicted (never mind the tenant was four months late on rent).
HEAR FROM THE EXPERTS
Get the inner workings of Fort Wayne land trusts in this Insider Interview™ as Scott FladHamer sits down with Randy Hughes for a condensed digest of protection and privacy. Hear why smart investors use land trusts to:

Keep the sales price secret and avoiding seasoning problems
Real life examples of Land Trusts Made Easy
Keep liens and judgments off the property
Save on title insurance and more…

FORMAT:
Audio MP3 Download
LENGTH:
20 Minutes
LEVEL:
Beginner to Advanced

LOG IN FOR LAND TRUSTS MADE EASY

MEET

RANDY HUGHES, MR. LAND TRUST
He started life out on the wrong side of the railroad tracks. His father was an alcoholic and his mother was left to raise four children on a clerk's wages. None of his relatives owned their own business…everyone worked for wages.
His father charged the weekly groceries so that the family would have food on the table. There was no stable income for any future education much less the current needs of the family.
No intellectual or financial direction was taught in his schools and no relative had anything to offer other than "working for the man" at an hourly wage. He was doomed for financial failure and unhappiness for the rest of his life.
GETTING STARTED IN REAL ESTATE
Randy knew that there must be a better way to live. He decided to break the cycle of poverty in his family genes. Education came first. Randy graduated from Eastern Illinois University and began buying single family homes for rental while in college. After college, Randy tried many different types of businesses, but always came back to the Single Family Home as the IDEAL investment. Since purchasing his first rental house in 1969, Randy hasn't looked back!
Today, Randy has purchased over 200 houses. He has lived the life of having nothing and will not let that happen again. Randy's primary goal now is to teach others how to break the cycle of poverty. Randy teaches real estate investment courses throughout the United States. He has written Privacy and Asset Protection books as well as home study courses. Randy's most popular publications are his Land Trust Made Simple home study courses and live seminars.
Randy has written extensively for local and national real estate publications. He has taught real estate classes at the University of Illinois, Parkland College and Elgin Community College. Randy has been a licensed Continuing Education Instructor for the Illinois Association of Realtors for 20 years.
Not convinced maintaining privacy is a real threat?
Did you know that an LLC alone will not get you the privacy you need?
Read the ludicrous lawsuits that could have been prevent by using a land trust here
Today a few clicks on google can tell anybody anything. Even though I have nothing to hide there are people who take advantage of this freedom of information. Protecting myself and my family is my responsibility, and that includes maintaining the privacy; personally and professionally.

I've found the best way to maintain privacy in my transactions and long-term holdings is using Fort Wayne Land Trusts.

Even if someone trolls the web to uncover my trustee they aren't going to find all twenty of them to link anything real substantial together to jeopardize my standing.

-Scott FladHammer, Insider Interviews™
---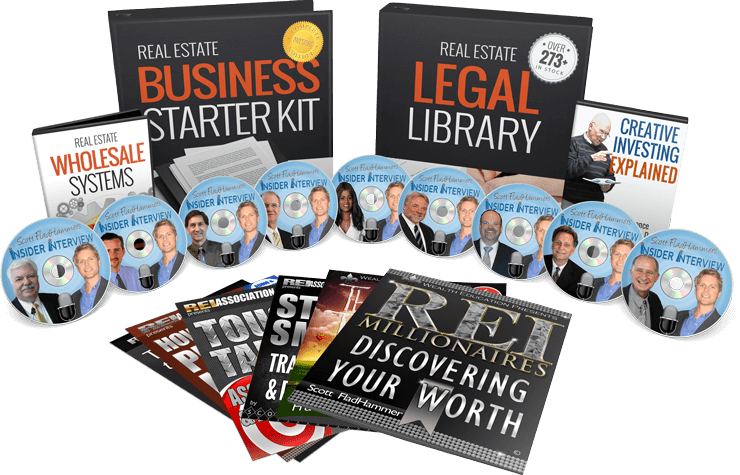 GIVE YOURSELF AN
EDGE
Get access to 50+ courses in the training academy when you invest in a REIA membership. Judge for yourself if the (ridiculously) low membership fee is worth
you see here