Fort Wayne REIA Meeting Review
Find bargain properties and write offers
EMCEE
REIA NEWS
Emcee announcements:
• Cast your vote for Indiana REIA™ 2019 Member of the Year award by going to IndianaREIA.com/go/vote
• Local investor hard available and REIA members get priority service.
• Lifetime members can now list their property for free Investor Bargains™
WELCOME NEW INDIANA REIA™ MEMBERS
Jerry & Coleen Miller
Nathan Hook
Christy Wingfield
Chris Czerniak
Roy Vierck
SAY IT IN SIXTY SECONDS
Our trademarked speed-networking session, Say It In Sixty, is where our members and vendors have an opportunity to deliver an effective self-promotion commercial in 60 seconds.
Gab will host the next Cashflow game. If you would like information contact through REIA website.
Kolin invited newbies to the Landlord Lunch on him.
DOOR PRIZE WINNER
Summary of Meeting: How to find bargain properties and write contract offers, building profitable partnerships and a solid power team, marketing to find motivated sellers.
Behind every great Association there are great members
Make 2019 the best year ever! Get plugged in and involved with Indiana REIA™ »

Don't Miss the Next REIA meeting Saturday March 16th !
Check the agenda and keynote presentation for the next Fort Wayne REIA meeting»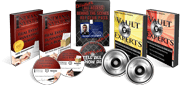 Get immediate access to this training, the largest collection of educational courses and $1497.00 worth of forms and bonuses when you join here
Want to grow your portfolio?
Here's the tool we use to manage income property professionally. Check it out and get our
Landlord Survival Forms Free
‹ Back to Meeting Recap Index