Fort Wayne REIA Meeting Review
Topic: How to fund your deals
EMCEE
REIA NEWS
Jay Redding provided the following announcements and REIA news:
● Cast your vote for Indiana's 2019 Landlord of the Year award by going to IndianaREIA.com/go/vote
● Jay is hosting a Landlord Luncheon. Time and place can be found at IndianaREIA.com/go/lunch. Mike A. announces Jay is buying for everyone who attends.
● Lifetime members can now list their property for free Investor Bargains™
● The Indiana REIA™ business & real estate mastermind will be this Thursday. Watch your inbox for access information.
● You can download the current and upcoming REIA meetings schedule at IndianaREIA.com/meetings
● We have a Cashflow game meetup scheduled if you would like information contact us.
● Sign up to enter the real estate Deal of the Decade. If your deal is chosen you'll win a bunch of goodies. See more information and submit your deal at IndianaREIA.com/go/dod
● We will be increasing the cost of the LIFETIME membership. Don't wait to get full and ongoing access to the entire Indiana REIA™ curriculum. And with a LIFETIME membership there's no need to ever renew your membership or pay dues! Join or upgrade now at IndianaREIA.com/membership.
DOOR PRIZE WINNER
Look up Adam Beckstedt at the next Fort Wayne REIA meeting to congratulate for being the REIA meeting door prize winner!
REIA MEETING MEMORIES
SAY IT IN SIXTY SECONDS
Our trademarked speed-networking session, Say It In Sixty, is where our members and vendors have an opportunity to deliver an effective self-promotion commercial in 60 seconds about their deals, property, services and anything that has to do with real estate.
This REIA meeting note takers recorded and provided the following leads, contacts, sub-groups and opportunities:
LOG IN for SAY IT IN SIXTY SECONDS and NEW INDIANA REIA™ MEMBERS


As we closed the meeting Jay Redding reminded all to utilize the 'Ask Me Anything' feature for next months meeting to pick the brain of our experts in the field to learn real estate faster for a peaceful, profitable business and lifestyle.
Many attendees are having a lunch meetup and invited all to join.
Behind every great Association there are great members
Make 2019 the best year ever! Get plugged in and involved with Indiana REIA™ »

Don't Miss the Next REIA meeting Saturday March 16th !
Check the agenda and keynote presentation for the next Fort Wayne REIA meeting»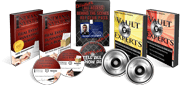 Get immediate access to this training, the largest collection of educational courses and $1497.00 worth of forms and bonuses when you join here
Want to grow your portfolio? Here's the tool we use to manage income property professionally. Check it out and get our Landlord Survival Forms Free

‹ Back to Meeting Recap Index